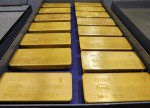 Gold Prices Fall as Market Trims Rate Cut Bets After Jobs Data

Gold prices fell slightly early Friday in New York, while bond yields rose after the monthly labor report showed the U.S. economy still adding jobs at a decent rate in September.
   

Rising yields make bonds more attractive relative to gold, which offers no nominal return.
The unemployment rate fell to a 50-year low as 136,000 jobs were created. While that's down from last month, August's number was revised sharply higher to 168,000.
At the same time, though, average hourly earnings stagnated over the month, breaking a string of solid gains in recent months. They're now up only 2.9% on the year, having run north of 3% for most of 2019.
In all, the figures were enough to make market participants trim the bets on future interest rate cuts from the Federal Reserve, which they had made earlier in the week on a succession of dire-looking business surveys.
To know more visit us :: http://www.mcxprofithub.com
OR
For Free Trial :: https://api.whatsapp.com/send?phone=918077792434
OR
Follow Us On :: https://www.youtube.com/channel/UCc-964s68i6JTm1LpL-da_A
OR
Like Us On :: https://www.facebook.com/Mcx-Profit-Hub-331229491040253/